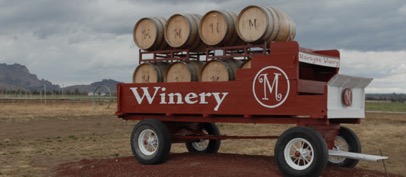 Central and Eastern Oregon WineTrail
Few wineries in Oregon reside east of the Cascades. In fact, a full 68% of Oregon's wineries call the Willamette Valley home. Ironically, it is reversed up north in Washington where the biggest chunk of wineries exists in eastern Washington. But even in Washington, Walla Walla's wineries rely on fruit made in Oregon's Umatilla County where a large percentage of the Walla Walla AVA thrives. The newly designated Snake River Valley AVA extends into eastern Oregon's Baker and Malheur Counties. No doubt we will witness a significant growth of vineyards on the Snake River Valley. So it is most surprising that the Central and Eastern Oregon WineTrail is comprised of 4 wineries – Maragas Winery and Volcano Vineyards in Bend and Zerba Cellars and Watermill Winery in Milton-Freewater. Of course a trip to Bend also entails plenty of time for exploring nature's wonders – rock climbing, skiing, and hiking and biking. You'll need to work off some calories. There are just too many good restaurants around! Ditto for Walla Walla (Milton-Freewater). But for a real surprise be sure and experience the fine chocolates available at Petits Noirs (622 S. Main St.) in Milton-Freewater. Petits Noirs has designed chocolates that pair beautifully with specific wines produced by local wineries in Walla Walla. Yummy!
View All the Wineries on this Trail
Wineries in this WineTrail
15523 S. Hwy 97, Bend, OR 97734 -121.315846 44.052143

---

930 NW Brooks Street, Bend, OR 97701 -121.313974 44.059716

---
---
Post a Comment
You must be signed in to comment.
New to WineTrailsNW? Sign up to comment.