Don Carlo Vineyard
"We don't need no stinkin' wine glass," says a Don Carlo Vineyard devotee as he tipped the open bottle to his lips. Although done in jest, the urge to chug rather than merely sip is there. A wine glass is appropriate for sipping, but when you crave a big dose of cabernet, what's wrong with a little instant gratification?
Producing estate wines from—you guessed it—grapes grown in Don Carlo Vineyard, this relatively new winery to Walla Walla produces classic favorites such as chardonnay, merlot, and cabernet sauvignon. As you taste your way through this manageable portfolio, the word "expressive" may come to mind, because these wines convey the Walla Walla terroir. From the soft, round mouthfeel of the merlot to the layered, complex dark fruit flavors of the cabernet, these are nice wines to savor while enjoying the friendly chatter of owners Lori and Tim Kennedy as they work the tasting room.
Named in honor of Lori's Italian grandfather Carlo, the Kennedys opened a tasting room in a strategic location: a ground-floor retail space at the Marcus Whitman Hotel. Talk about a captive audience; most folks who flock to the hotel are on a mission to taste Walla Walla wines. Now, you don't even need to leave the hotel.
Here's an offbeat pairing to try at the Don Carlo tasting room: Don Carlo Vineyard wine with chocolate-dipped potato chips. It's like going to the Texas State Fair and noshing on doughnuts topped with chocolate-covered, deep-fried bacon. Forget the calories and enjoy the culinary journey! And that bowl of Tim's Cascade Style Potato Chips you spotted on the counter is no coincidence. Yes, dear reader, the "Tim" behind the counter pouring your sample is none other than Tim of Tim's Cascade Style Potato Chips, who has proven that barbecue-flavored chips really do pair well with merlot.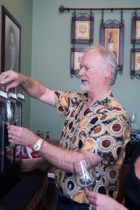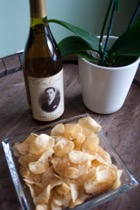 WineTrail: Walla Walla Downtown WineTrail
Owner: Tim & Lori Kennedy
Winemaker: Lori Kennedy
Opened: 2011
Tasting Room: Open to the public
Amenities: Facebook, Wine Club, Twitter, Online Store, RV/Bus Parking and Chocolate dipped potato chips!
Phone: 509-540-5784
Website: www.doncarlovineyard.com
Official Winery Rep/Owner: Information Change? Click Here
Don Carlo Vineyard

Tasting Room

6 West Rose Street, Suite 105 The Marcus Whitman,

Walla Walla,

WA

99362

Hours: Friday through Saturday 2–6

Don Carlo Vineyard

Winery

83872 Don Carlo Way & County Road ,

Milton-Freewater,

OR

97813

Hours: By appointment only
Enlarge Map
---
Post a Comment
You must be signed in to comment.
New to WineTrailsNW? Sign up to comment.