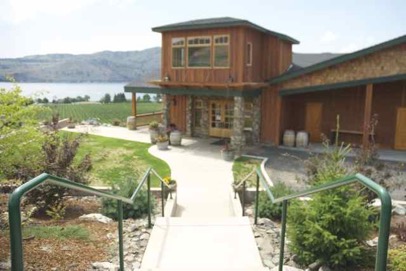 Chelan Ridge Winery
"I like to be out in the vineyard pruning. I find it relaxing," noted Lynn Munneke, referring to the 13 acres of grapes growing next to Chelan Ridge Winery. One of the newest wineries in the Lake Chelan appellation, Chelan Ridge is perhaps the AVA's best, because of its incredible views of the surrounding area, the facility itself and the quality of its wine, which belies the fact that this is a new winery. Vineyard manager, winemaker, and adept at making visitors feel at home, Lynn is a big part of the success story behind this infant winery.
However, don't plan on visiting in the winter when Lynn and her retired pilot husband, Henry, escape the cold to their home in Arizona. Not to give the impression that Henry is a passive co-owner of the winery. This renaissance man designed the facility down to the last detail, including a barrel room that remains at a constant 56–57 degrees Fahrenheit and an inviting fireplace for relaxing next to with a glass of wine. Henry is often at the winery greeting visitors and making them feel welcome with his magnetic smile and, if time permits, a tour of the underground barrel room.
To educate herself on managing the vineyard — planted with eight different grape varieties — as well as the winemaking process, Lynn immersed herself in the Washington State University online viticulture and enology programs. It's given her a healthy dose of the science behind winemaking and the latest in grape-growing practices from WSU researchers. It's also shaped her style of winemaking, which leans toward "letting the fruit express itself" and includes the use of gravity for bottling their wine. Here, grapes get the primo spa treatment as she gently coaxes the fruit through the conversion process to wine. P.S. don't leave without trying her sinfully rich Rouge de Moraine red blend. Lovely.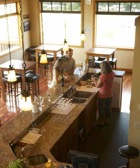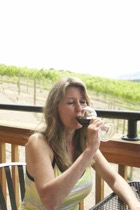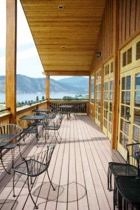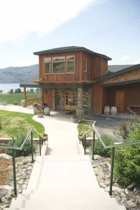 WineTrail: Lake Chelan WineTrail North
Owner: Henry and Lynn Munneke
Winemaker: Lynn Munneke
Opened: 2010
Tasting Room: Open to the public
Amenities: Facebook, Picnic Area, RV/Bus Parking, Restaurant/Food Pairings, Vineyard on Premise, Wines by the Glass, Twitter
Phone: 509-668-0593 , 509-687-4455
Website: www.chelanridgewinery.com
Official Winery Rep/Owner: Information Change? Click Here
Chelan Ridge Winery

Winery/Tasting Room

900 Swartout Road,

Manson,

WA

98831

-120.11586699999999439

47.883242000000002747

Hours: Summer: Daily 12-6; Winter: Friday through Sunday 12-6
Enlarge Map
---
Post a Comment
You must be signed in to comment.
New to WineTrailsNW? Sign up to comment.