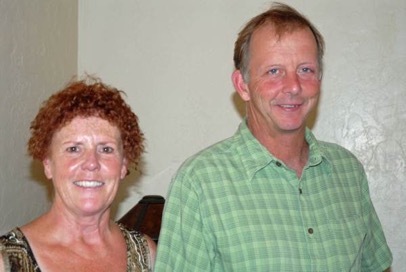 Becker Vineyard
OK, I understand that this page is for waxing somewhat eloquently about a winery's fantastic wines, its great tasting room, its eco-friendly vineyard practices, its summer concert series, and the stunning views. However, when it comes to Becker Vineyard, the storyline begins and ends with the proprietors of this marvelous winery — Charles (Charlie) and Peggy Becker. Sure, they offer a lovely line-up of wines in a gorgeous setting, but the chemistry of these two makes the difference. They are a such a cute couple, with loads of energy.
This is the story of two very hard-working people who met in midlife at a nature preserve and fell in love. They are still in love, despite the fact that launching and maintaining the winery/vineyard is all consuming. That's in addition to keeping their day jobs, no less. During the week, Peggy works at a local healthcare clinic, and Charlie is a house painter. He's also an accomplished builder and personally constructed their new tasting room. I suspect he also painted it. In addition, Peggy is a master gardener of sorts, and a quick inspection of the nearby gardens, which includes a rare big leaf magnolia tree, is a testament to her green thumb.
Together with their chocolate Lab, Moka, the couple produces small batches of premium wines, most of which are sold at the tasting room. Visitors will experience a yummy portfolio of wines, including pinot gris, pinot noir rosé, pinot noir, cabernet sauvignon, and syrah. That is, if they aren't sold out. When done with the tasting, there's a nature walk around the Beckers' property that's excellent for getting to know the flora of this great region.
Balancing camera and notebook in one hand, I shook their hands and said my goodbyes. Little did they know that I felt like hugging them, but given the fact that we had met just 45 minutes earlier, that might have been a little awkward.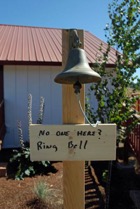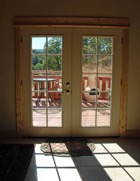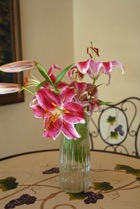 WineTrail: Mid Umpqua Valley WineTrail
Owner: Charles and Peggy Becker
Winemaker: Charles Becker
Opened: 2008
Tasting Room: Open to the public
Amenities: Picnic Area,
Where To Buy: winery
Phone: 541-677-0288 Fax: 541-677-0288
Website: www.beckerwine.com
Official Winery Rep/Owner: Information Change? Click Here
Becker Vineyard

Winery/Tasting Room

360 Klahowya Ln ,

Roseburg,

OR

97470

-123.42864099999999894

43.29869899999999916

Hours: Weekends and holidays 11–5
Enlarge Map
Directions: Heading southbound on I-5 past Eugene take exit 129 toward OR-99/Winchester/N. Roseburg. Bear right (west) onto County Road 115 [Del Rio Rd]. Road name changes to Del Rio Rd. Proceed 1.7 miles. Keep straight for 1.2 miles. Turn left (west) onto local road and go .6 miles. Keep left onto Klahowya Ln and travel 1.3 miles. Arrive at 360 Klahowya Ln and follow signs to winery. Heading northbound on I-5 north of Roseburg take exit 125 toward Garden Valley Blvd/Roseburg. Turn left (west) onto NW Garden Valley Blvd and go 1.6 miles. Road name changes to County Road 6 [NW Garden Valley Blvd]. Proceed .6 miles. Bear right (north) onto County Road 31A. Continue .6 miles. Road name changes to County Road 31D [Garden Valley Rd]. Proceed 1.4 miles. Road name changes to CR-6 [Garden Valley Rd]. Continue 1.2 miles. Turn right (east) onto Upper Cleveland Rapids Rd and go .9 miles. Bear right (east) onto Klahowya Ln, go .2 miles, and arrive at 360 Klayhowya Ln.
---
Post a Comment
You must be signed in to comment.
New to WineTrailsNW? Sign up to comment.